613 blonde hair is the hottest trend this summer. Are you ready to try this hair color for summer? WigFever blonde wigs is designed to help you radiate with vibrant brilliance, embracing your inner beauty and expressing yourself in the most glamorous way. Whether you are looking for a subtle enhancement or a bold transformation, our exquisite range of blonde wigs is sure to meet your imagination.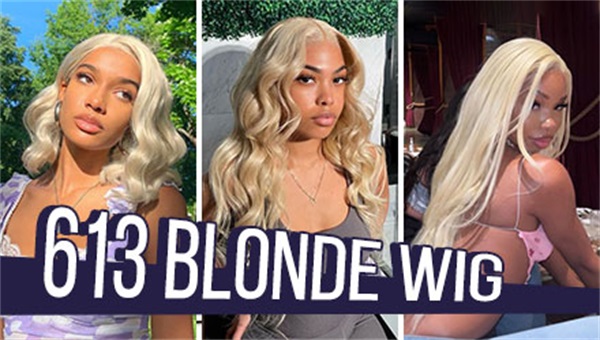 As the sun shines brighter and the temperatures rise, there's a noticeable shift in fashion trends during the summer months. 613 blonde wigs have become a go-to choice for many during the summer season. Here are a few reasons why 613 blonde wigs are popular in summer:
Sunlight Reflection and UV Protection
Lighter color hair reflects more sunlight than dark-colored wigs, especially light blonde color. This higher reflectance makes them more glamorous under the sunlight. That complements the sunny and warm atmosphere of summer. Furthermore, light hair can reflect a larger portion of UV rays away from the scalp and hair, reducing the risk of sunburn on the scalp and hair damage.
Cooling Vibe
Light hair reflects more sunlight than it absorbs, helping to keep the head and scalp cooler in direct sunlight. This can provide a natural cooling effect during hot summer days, reducing the risk of overheating and discomfort.
Versatile Style
Light blonde wigs offer a wide range of versatility and playfulness, making them an ideal choice for the summer season. From beach parties to music festivals, summer is filled with various events and occasions where you can let your hair down and experiment with different styles. 613 blonde wigs allow you to effortlessly switch up your look, whether you opt for a sleek and straight hairstyle or loose waves and curls. The versatility of light blonde wigs allows you to match your hair to the mood and atmosphere of any summer gathering.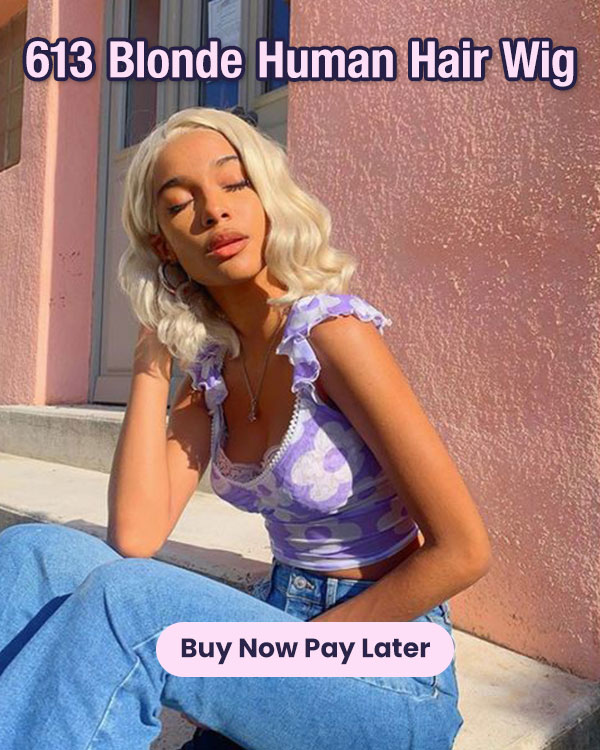 WigFever Summer 613 Blonde Wigs: Radiate with Vibrant Brilliance
For your convenience, we have compiled a list of the best 613 blonde wigs on WigFever.
613 Blonde Wear And Go Glueless Human Hair Wig
Wig type: 4x7 Glueless Lace Closure
Hair texture: Silky Straight
Hair length: 10-28 Inch
This wig is the most popular blonde wig at WigFever. First, it is a glueless lace wig, it can apply without glue or adhesives. This feature can save you time and effort since you do not have to use glue on lace but can have the same natural effect as a lace front wig. Second, the wig has already been pre-cut and pre-plucked by professional hair stylists. If you have any questions about it, feel free to contact us, and we will provide you with more details on it. Finally, this wig is very suitable for the hot warm season. We upgraded the dome cap material, and after testing, the breathability can reach nearly 99% which means the sweat can drain very well.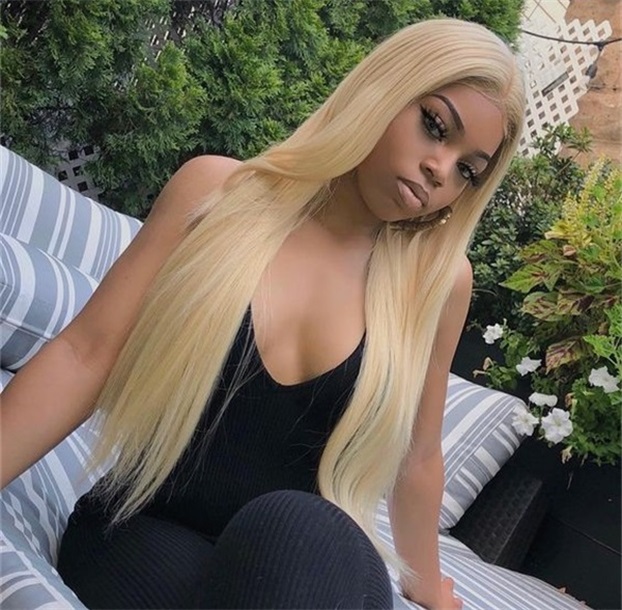 Straight Short Bob Wig #613 Color Lace Front Human Hair Wig
Wig type: 13x4 Lace Front
Hair texture: Silky Straight
Hair length: 10-16 Inch
There is no type of wig that is more natural than a lace frontal, and you can style it whatever you want. With a lace front blonde wig, you can not only do a side part or free part but also can perm or color on it. In addition, a bob wig can bring you cooler in summer, the shorter hair allows better air circulation and is also lighter than long hair wigs, which makes it the first hairstyle choice for many girls in summer. Just imagine how beautiful the sea breeze and the girl with short blonde hair are under the shining of the magnificent sunset.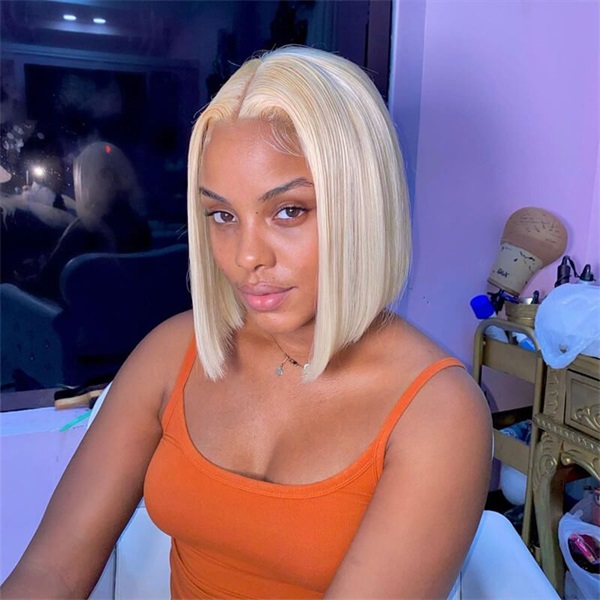 Body Wave HD Lace Closure Wig 613 Blonde Color Human Hair Wig
Wig type: 4x4 Lace Closure
Hair texture: Body Wave
Hair length: 14-28 Inch
The wig selected the HD lace material, which is finely crafted, and can perfectly blend into your scalp, just like your real hairline. what's more important is HD lace also offers excellent breathability and comfort, making it feel light and natural when you wear it. The body wave texture is one of the features of this wig, it has a natural wavy shape, giving a smooth, elegant vibe. This hairstyle can suit any occasion, it is always a classic and timeless fashion trend.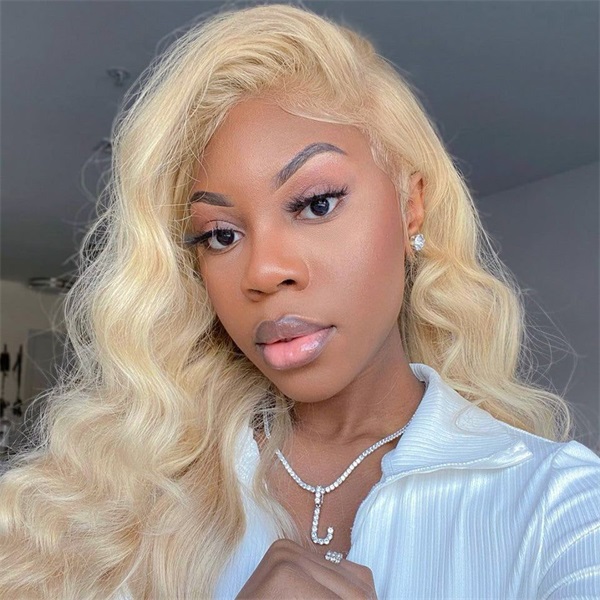 Deep Wave Blonde 613 Lace Front Human Hair wig
Wig type: 13x4 Lace Front
Hair texture: Deep Wave
Hair length: 14-28 Inch
Deep wave wig is known for its distinctive wave pattern. This texture makes deep wave hair an excellent choice for achieving a summer wet look hairstyle. Wet look hairstyle gives the illusion of just stepping out of the water, creating a sense of freshness and helping to combat the heat. It aligns perfectly with the effortless and relaxed atmosphere of summer holidays, whether you're lounging by the pool, strolling along the beach, or attending outdoor events.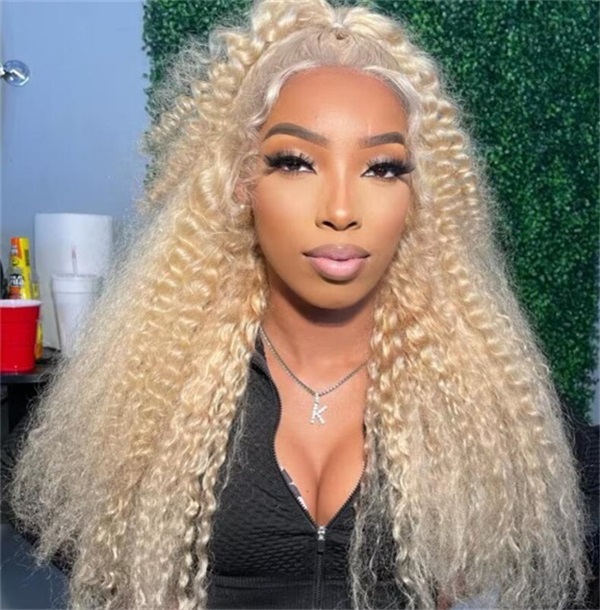 How to Dye a Wig Blonde
If you don't have enough project budget to buy brand new blonde hair, do-it-yourself is also a great option. One of the reasons for the popularity of blonde wigs is that they can be dyed into any other color. For example, black hair cannot be dyed bright pink, it has to be bleached to blonde first, so having blonde hair is like having endless possibilities. However, just a human hair wig can withstand the dyeing process, so ensure your wig is made of virgin human hair and it was washed and detangled before starting. Here are simple steps to bleach a wig blonde.
Step 1:Prepare dyeing tools
Bleach powder
Developer: Select a developer in the appropriate strength (20 or 30 volume is commonly used for wigs).
Mixing bowl
Brush: Get a brush designed for hair dye application.
Disposable Gloves: Wear gloves to protect your hands during the process.
Plastic wrap or aluminum foil: You'll need these to wrap the wig and allow the bleach to process.
Step 2: Mix the bleach powder
Follow the instructions provided with the bleach powder and developer to determine the correct proportions. In the mixing bowl, combine the bleach powder and developer and stir well until you achieve a smooth, creamy consistency.
Step 3: Apply the bleach
Put your wig on the wig stand. Starting from the bottom of the wig, use the applicator brush to apply the bleach mixture to the hair strands. Work your way up, ensuring that each section is thoroughly saturated with bleach. Avoid applying the bleach to the wig cap or lace if applicable, as it may cause damage or discoloration.
Step4: Wrap the wig
Once the bleach is applied, cover the wig with plastic wrap or aluminum foil to create a barrier and prevent the bleach from drying out.
Let the bleaching process for the recommended time, which is usually around 30 minutes. Keep a close eye on the wig to prevent over-processing, as the bleach can damage the hair if left on for too long.
Step 5: Rinse and wash
After the processing time is up, remove the plastic wrap or foil and rinse the wig under lukewarm water until the water runs clear. Wash the wig with a mild shampoo to remove any remaining bleach residue. Gently massage the shampoo into the hair, then rinse thoroughly.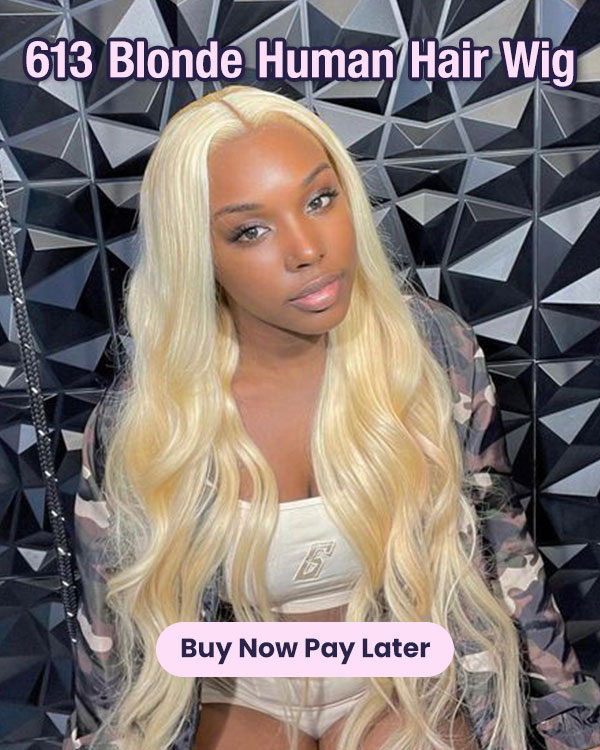 Final Word
Whether you are looking to embrace the sun-kissed look, experiment with different styles, or simply beat the heat in style, 613 blonde wigs are a fantastic choice. So, why not embrace the trend and radiate it with vibrant brilliance.
Related Posts
Summer Trends: Wear And Go Wigs For Black Women
Bob Wigs: Why You Should Try Them For This Summer