Welcome to the world of Wigfever, where hair isn't just hair; it's a canvas for self-expression. We understand that finding the perfect wig can be a daunting task. With countless options available, how do you know you're making the right choice? The answer lies in the invaluable treasure trove of customer reviews. In this blog, we'll present the most authentic customer reviews for you to a remarkable wig shopping experience.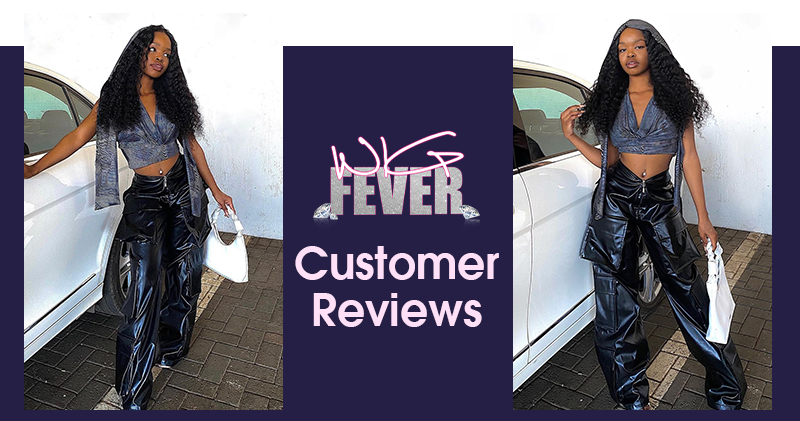 About Wigfever Hair
Wigfever taking over the wigs across the world, collecting all females dreaming hair. We are a fashion-forward band with a huge ambition. We're here for our girls all over the world. Our mission is waking up girls confidence and inspiring them to be exactly who they want to be.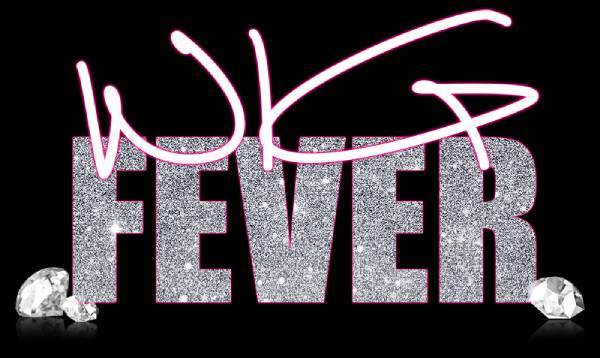 Why Choose Wigfever Hair Wig?
Service Guarantee
Wigfever mall insist on the concept of "Excited price, trusted quality", devote to provide best quality human virgin hair and trusted customer service.
We focus on the combination of customer experience and product sales, listen to our customers through various channels of sharing and interactive communication, improve the quality of products and services.
Pre-sale Service
1. Honest products description--- We answer all the questions honestly with patience.
2. 24 hours online--- We will reply you within 24 hours, save more time for your order.
After Sale Service
1.Reasonable return policy--- Responsible for the goods that are not non-artificial damaged, and sent by wrong type, color, or length within 15 days.
2. Professional after-sale service--- Perfect return and exchange service as well as refund system, providing the best after-sale guarantee for you.
Trends and Versatility
Our products are inspired by the latest trends in fashion, street style, and pop culture, allowing us to be the top leader of the newest hair artist.
The Wigfever Experience: A Peek Through Customer Reviews:
Reviews of the package and gifts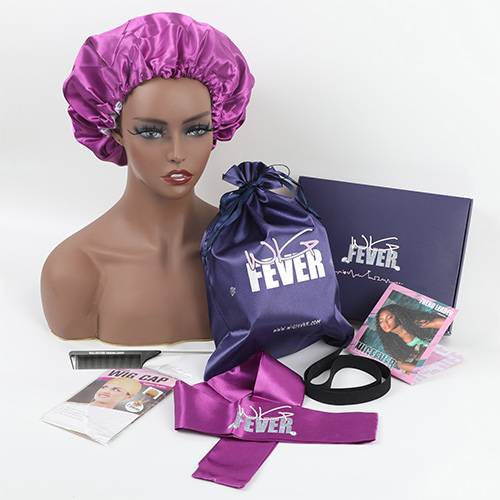 You shouldn't be concerned that your wig will be damaged during transport. We can guarantee that the wig will be sent to you in good condition because we have secure packing to safeguard it. To prevent the package from crushing, we have gas packaging.
You won't be disappointed when you get your package, we have an extra eight gifts for you. The gifts include a Wigfever bonnet, a comb, a satin bag, two HD wig caps, an elastic band elastic band, a thank you card and a purple headband. These are practical giveaways to make the process of wearing your wig easier.
Definitely worth every penny, this is what the wig looked like when I first opened the package and it was really super soft to touch. The package was stuffed to the brim as there were lots of extra goodies, fantastic!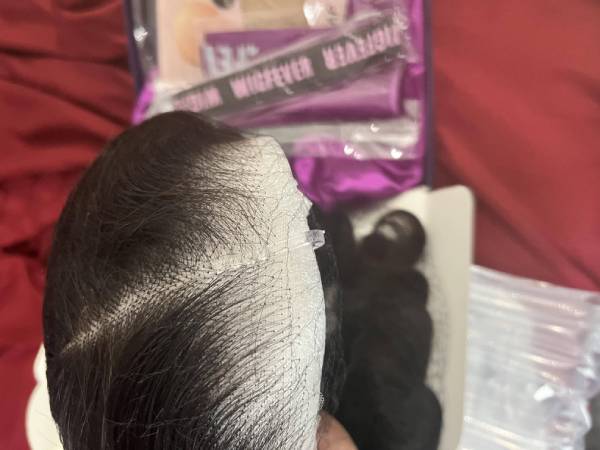 Reviews of the wig detail
HD lace: The lace really thinner than I received before, cuz HDlace , Literally blends too well. This wig is growing on me as I don't wear wigs,
Pre-bleached: So, the wig out of the packaging looks darker, but once it's on, in natural light it looks lighter! I had it installed and it didn't need bleaching and very minimal plucking. I also love that it works on us smaller headed women. I think the price for this color, style and length is outstanding! Thank you, I'll be back.
The curls: This hair is everything !!! Lace blends well with the skin. The curls would get poofy with no product. But when I put some curly cream and moose in it bombbbbbb !! I didn't have to bleach the knots and it came out good. Definitely would recommend this hair.
Reviews of colored wigs
When it comes to colored wigs, there are plenty of colors to choose from on Wigfever online website. Whether you are looking for hot , 613 color wigs, 99J color wigs, skunk-stripe color wig, highlight color or other colorful wigs you can always find a wig color that matches your personality here.
From S***d: Very kind and helpful customer service. The wig is everything I imagined and it definitely was true to color. The blue skunk stripe is so pretty and really stands out. If you're thinking about purchasing any of the other colors, I know they will be just as pretty as the one I received. I am very pleased with my new wig.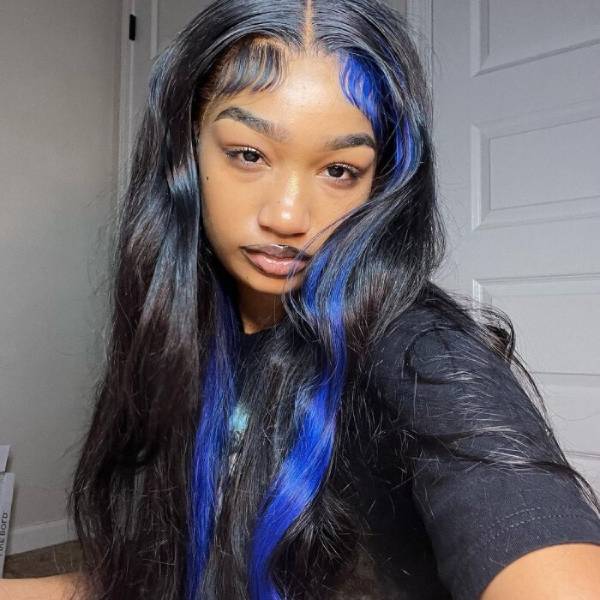 Reviews of customer service
The customer service had very good communication, made sure I got what I wanted and was very sweet. The hair came with a lot of gifts. I loved the hair!
I was a bit sceptical about ordering online as I am in South Africa but the team explained the process and communicated with me throughout the experience. I recently got my weave and I'm in love with it. The quality is amazing and it does not shed. I'm definitely ordering again. Wigfever is now a keeper.
Third-party reviews on trustpilot
Trustpilot is an online platform and community-driven review website that allows customers to leave reviews and feedback about their experiences with various brands. It serves as a trusted and transparent platform for customers to share their opinions. All reviews, whether positive or negative, are published, and companies cannot delete or manipulate them.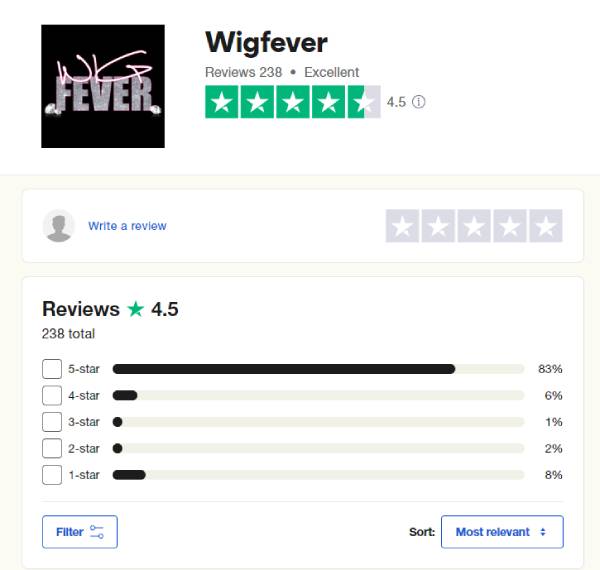 Click for more customer reviews from Trustpilot.
Other reviews
From E***X: This the absolute best bob wig you could find. It is of great quality, the knots were so fine. It took the bleach well, it took the parting well and also the heat well. It was a really nice install, great quality and value for your money. It took less than 15 mins to bleach the knots. It was easy to bleach and easy to install. Perfect for the summer! The quality of this wig is truly amazing. I would definitely buy again and also recommend this wig to anyone to purchase.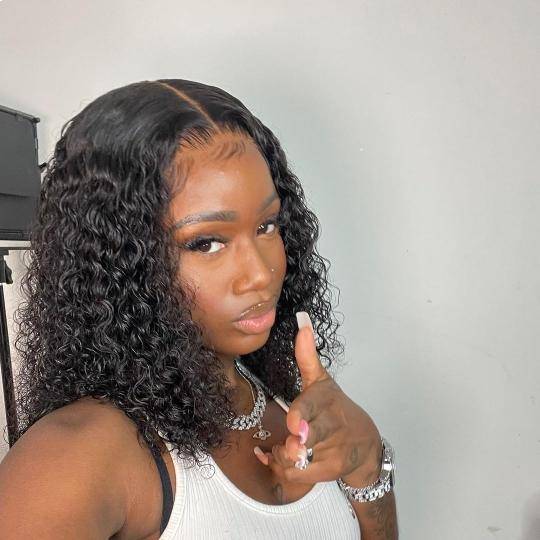 From B***W: absolutely love love love this hair!! Does so good wet and fully dry, I don't even put any product in it I jus spray it with water and comb through it with my hands or a wide tooth comb and it looks amazing each time. The lace disappeared with little to no effort whatsoever and it's soo versatile plus has way more lace than I thought so I can do deep parts also. There's little to no shedding and the color is gorgeous I've gotten so many compliments and people asking where'd I get the wig and they're surprised each time I say Wigfever and how much I payed, I'm still in shock myself lol. This company is definitely better than a lot of company's I tried in the past; so high quality.
Conclusion:
In the world of wigs, the wisdom of the crowd prevails. Wigfever customer reviews offer you a front-row seat to the wig shopping experience. They provide trust, valuable information, and a roadmap to your perfect wig. As you explore our website, don't forget to check out the customer reviews. It's where the magic happens, and where you'll find your next favorite wig.
You might want to check these posts:
Frequently Asked Questions About WigFever
Why You Must Try WigFever Glueless Body Wave Wig