With summer in full swing, it's time to try new hairstyles that are trendy, low-maintenance, and perfect for the hot weather. If you're looking for a fresh and chic look, why not consider trying bob wigs? Bob wigs are incredibly versatile and offer a range of benefits that make them ideal for the summer season. In this blog post, we'll explore the reasons why you should give bob wigs a try this summer.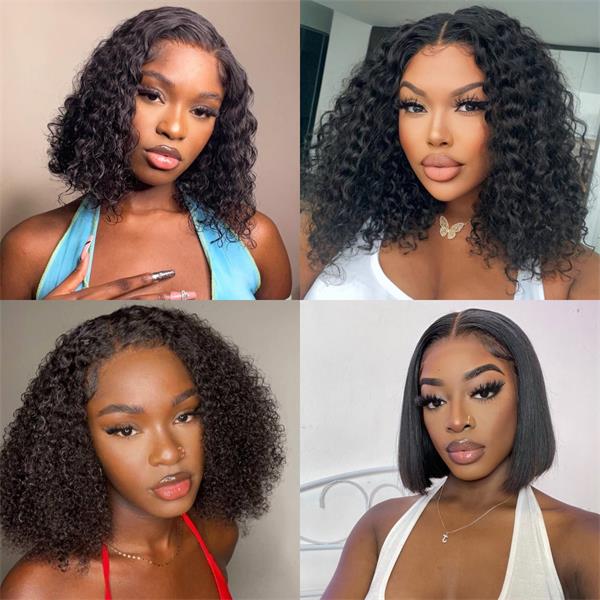 What Is a Bob Wig
Bob wigs are one of the most unique and distinctive wigs. Bob hair is a hairstyle which cut in a straight line either slightly above the shoulder or a bit off the shoulder. Its length is usually 8-14 inches. Generally speaking, 8-10 inch wigs are likely to be considered short bob wigs, while 12-14 inch wigs are likely to be considered long bob wigs.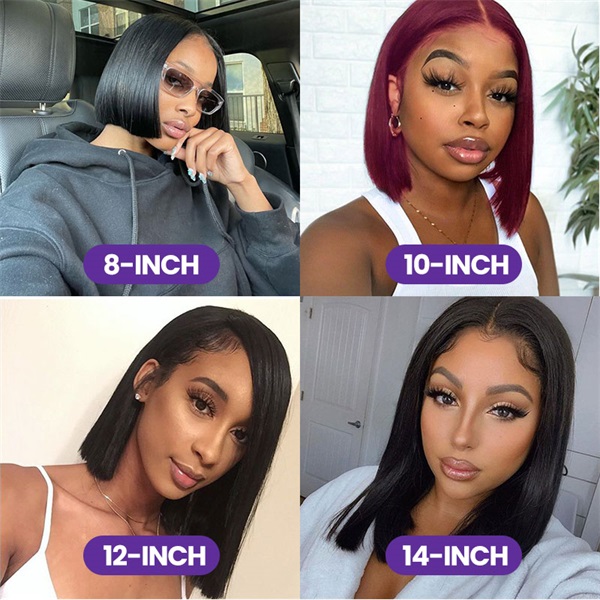 Why You Should Try Bob Wigs For This Summer
Easy to Maintain
Summer is a time for relaxation and enjoying outdoor activities. Bob wigs are known for their low-maintenance nature, which makes them perfect for a carefree summer. You don't have to spend hours styling your hair or worry about frizz caused by humidity. Bob wigs come pre-styled, so you can simply put them on and be ready to go. Whether you're hitting the beach, attending a summer party, or going on a vacation, bob wigs will save you time and effort while keeping you looking fabulous.
Stay Cool in Summer
One of the main advantages of bob wigs during the summer is their ability to keep you cool and comfortable. With shorter hair lengths, bob wigs allow for better airflow to your scalp, preventing excessive sweating and discomfort. Unlike longer hairstyles that can make you feel hot and sweaty, bob wigs are a stylish solution that helps you beat the summer heat.
Versatile Styles
Despite their shorter length, bob wigs offer a wide range of styling options. You can choose from different bob variations, such as blunt, layered, asymmetrical, or textured, depending on your preferences and facial features. Bob wigs also allow you to experiment with different colors, highlights, or ombre effects without any commitment. This versatility ensures that you can find a bob wig that suits your personal style and enhances your summer look.
Protection for Your Natural Hair
Excessive exposure to the sun, salt water, and chlorine can damage your natural hair during the summer months. By wearing bob wigs, you provide a protective layer that shields your hair from these harmful elements. This means that you can enjoy all your favorite outdoor activities without worrying about the potential damage caused by UV rays or chemicals. Bob wigs offer a practical and stylish way to safeguard your hair while still looking fashionable. Especially the glueless wig, which can even be taken off every night to let your hair breathe freely.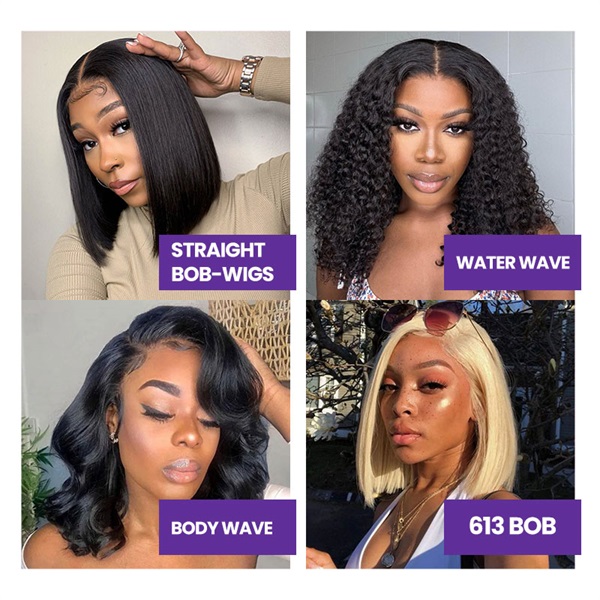 How To Choose Bob Wig
There are diversified bob wig types in the market, it may be overwhelming for a novice to choose a wig that suits them from so many wigs out there. Here are some factors to consider:
Face Shape
Different bob wig styles and lengths can modify different face shapes. For example, if you have a round face, you may be more suitable for a bob with a length of 10-12 inches. Doing a side part will make your face and facial features look more three-dimensional. If you have a longer face, you may be suitable for slightly shorter curly bob wigs, curly hair can add volume to the sides of your cheeks to balance your face shape.
Wig Color
The color of the bob wig should match your skin tone to make it more realistic. If you want to make a bold statement with a contrasting color. You can also purchase highlights and colored wigs to create some dimension to your hairstyle.
Budget
Prices for bob wigs vary according to their type. Generally speaking, the price of lace frontal wig and wear go glueless wig will be a little more expensive than other types. The price of colored wigs is also higher than that of unprocessed natural black color wigs.
Wig Types
If your scalp is sensitive and you are allergic to adhesives, we recommend you to choose wear go glueless wig, this type of wig does not need glue to secure, it is equipped with elastic straps that allow you to adjust the tightness. A headband wig is also a good choice, you can wear different colors of the headscarf to match different everyday clothes. HD lace wigs have a better natural effect than transparent lace wigs. Of course, the price will be slightly more costly.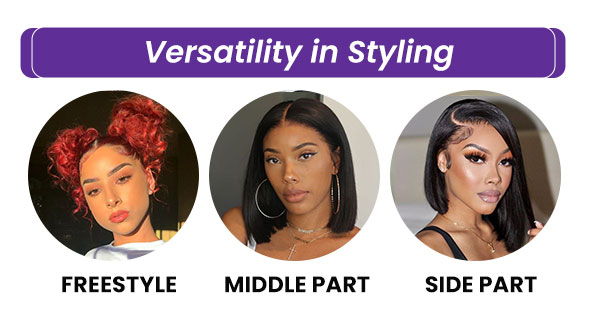 Conclusion
This summer, don't be afraid to switch up your look and embrace the versatility and convenience of bob wigs. With their ability to keep you cool and comfortable. Bob wigs are the perfect choice for the season. So go ahead, give bob wigs a try, and let your summer style shine!