Beyoncé has been recognized as a fashion icon, legend, and greatest singer of all time. She has given us countless looks throughout the years and has never shielded away from experimenting with different styles. Today we are going to introduce the most representative blonde in Beyoncé hairstyle.
Get into Beyoncé Blonde Hair
Beyoncé's blonde hair look has evolved throughout her singer career. She gradually changed from natural curly hair to silky straight hair at the beginning, and then to various innovations and diversifications later. This change not only shows the evolution of her personal style but also shows her keen sense of fashion and bold experimentation. As one of the most influential and admirable artists in contemporary music, Beyoncé's blonde hair has become one of her signature features.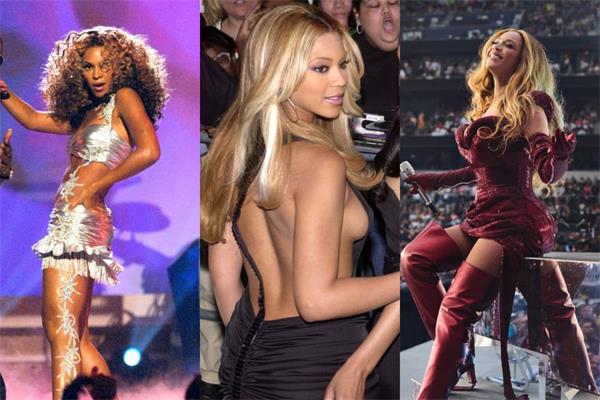 First of all, we can't ignore Beyoncé's bright blonde hair on stage. Whether she's at the Super Bowl halftime show or on her world tour, she always catches everyone's eye with her dazzling blonde hair. These blond hairstyles also show her confidence and power. Whether it's long straight hair or a high ponytail, Beyoncé's blond hair can always give people a strong visual impact, making her the focus on stage.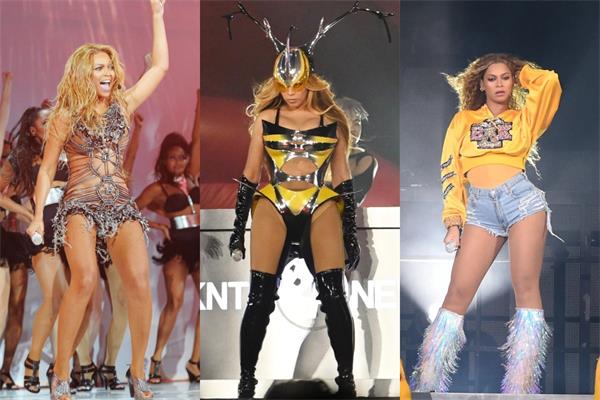 In addition to being on stage, Beyoncé often shows off a variety of blonde looks in her music videos. From vintage water wave curls to stylish ombre highlight hair, she always uses blonde color to perfectly capture the stories and emotions conveyed in her videos. For example, in her single "Hold Up," she opted for blonde curly hair that showed her romantic and passionate side. These different blonde looks to add a rich visual element to her music videos, making it easier for viewers to relate to her.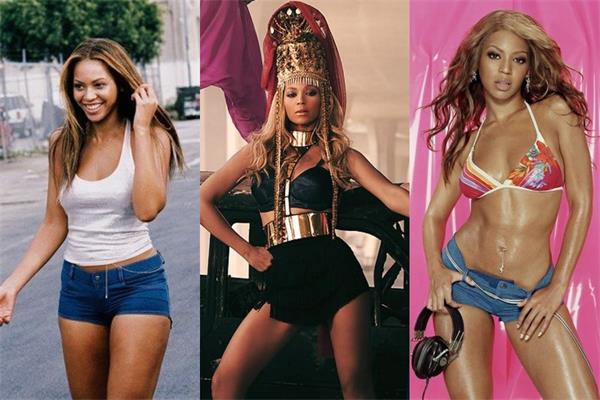 Beyond the stage and music videos, Beyoncé is also setting trends in the fashion world with her blonde looks. She is regularly featured on the covers of fashion magazines. Whether it's a red carpet event or a daily street shoot, Beyoncé always shows the charm of blonde hair in her unique way and combines it with fashion trends.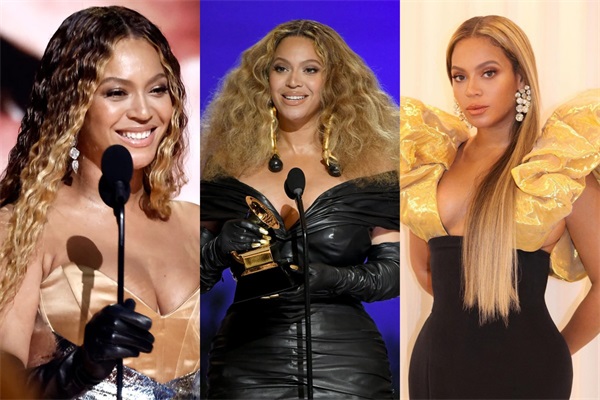 Wigfever Beyoncé Inspiration Series Wig
It's no secret that many black women often choose protective hairstyles over their natural hair. Environmental factors make hair maintenance more difficult. Wigs are a great choice for a protective style because they are versatile and often make natural hair stronger. Get it today introducing WigFever to Beyoncé inspired wigs.
1. Highlight Silky Straight Wear Go Glueless HD Lace Wig
It is a bestseller item in our online store. Suitable for all seasons, especially in the hot summer season and beach holidays. Our unique 3D dome cap makes you not feel humid and stuffy even under the sun. Besides, it requires no adhesives or wig glue to secure and can be taken off every night to let the scalp rest and breathe. Highlights add depth to this hairstyle and make you stand out in the crowd. 4x7 inches HD lace renders the hairline more natural and blends perfectly with your scalp.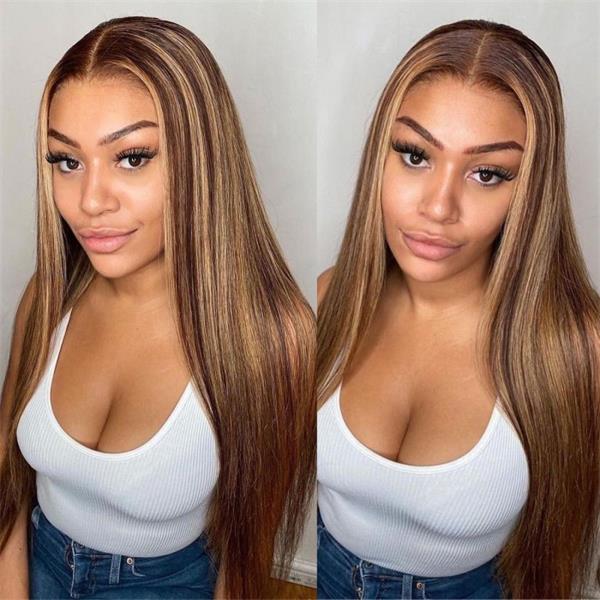 2. Honey Blonde Silky Straight 13*4 Lace Front Human Colored Wigs
Our wigs are made from the highest quality human hair to give you an incredibly authentic look and feel. This lace front wig was fully hand-tied by virgin human hair, which perfectly simulates the natural growth of the scalp. You can easily blend the front hairline of the wig into your own hairline for a seamless look. You can use heat styling tools to restyle it, like doing some curls or dyeing some ombre effect on it.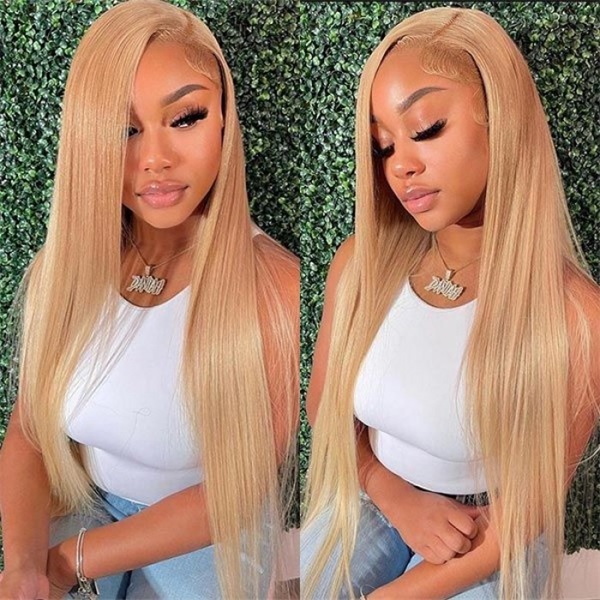 3. Honey Blonde Water Wave #27 Color 13*4 Lace Front Human Hair Wigs
The water wave curls can add volume to your hair perfectly. Whether for everyday life, special occasions, or stage performances, honey blonde color hair can bring you outstanding results. It's ideal for expressing your personal style, boosting your confidence, and transforming your look. Doing a classic wet hair look on a water wave wig is also a great option, perfect for summer fashion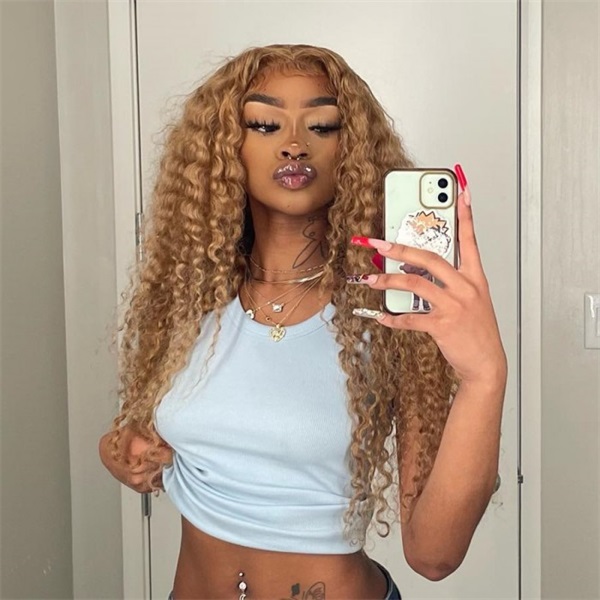 Final Word
Whether it is blonde, black hair, or other hair colors, Beyoncé has attracted countless fans with his outstanding musical talent and stage charm and has become one of the important figures in the pop music industry. Her blonde hair transformations have become iconic moments in pop culture, inspiring countless fans to experiment with their own styles. If you are also interested in this, buy now and pay later.