Removing glue from a lace wig is an important step for caring it, alcohol is an effective way to remove glue quickly. However, some people are worried that using alcohol will damage delicate HD lace. In this blog, we'll offer some alternative methods to remove glue residue from your lace wig without alcohol. Let's start!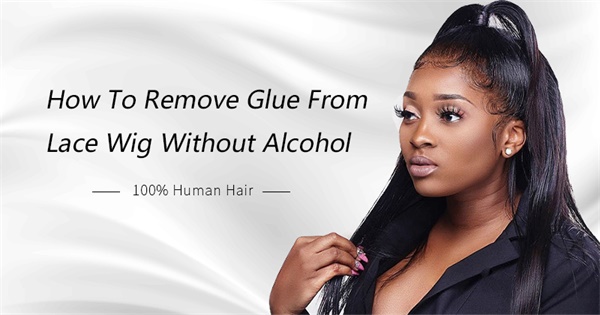 How To Remove Glue From Lace Wig Without Alcohol
Method 1 Dish Soap + Hot Water
Dish soap contains ingredients that help break down and dissolve adhesives, making it a suitable option for this task.
Pour hot water into a bowl or your basin. Add dish soap and stir the water to mixture it. Submerge the lace part in the mixture and leave for 10-15 minutes. Dab it with a dry towel. The glue residue will soften, you can gently wipe the gel off easily with a towel or a piece of kitchen paper.
Method 2 Vaseline
Vaseline, also known as petroleum jelly, can remove wig glue due to its features to dissolve adhesives and provide a lubricating barrier. It is a mild and safe product.
Take a small amount of Vaseline, and use your fingers or a cotton ball to dab it over the glued area. Make sure to cover all the places where the glue is. The lubricity of Vaseline
will help soften the glue, making it easier to remove. Let the Vaseline sit on the wig for 10 minutes, then dab the glued area with a damp paper towel or cotton ball. Finally, rinse off the residue.
Method 3 Silicon Mix/Conditioner
Silicon mix and conditioner are one of the most common ways to remove glue remover. They are multi-functional products.
Soak in hot water mixed with silicon mix or your wig conditioner. Use an edge brush to lightly brush off the glue gently. Do not pull out the hairs on the wig cap. Then Wash out glue and dirt from hair.
Method 4 Oil Products
Using oils can help dissolve or weaken the adhesive, making it easier to remove.
Apply a small amount of coconut oil onto the glue residue. Let the oil sit on the adhesive for about 10 minutes to soften it. Gently massage the oil into the glue, using a soft cloth or cotton ball to wipe away the residue. Rinse the wig with warm water to remove any remaining.
Method 5 Wig Glue Remover
Spray wig glue remover to the lace part and then use a toothbrush to scrub the glue out of the lace. Do not spray too much at one time. Wait for 15 minutes and then use a brush to remove any residue.
Wear and Go Glueless Wig: Free Your Hands From Removing Glue
If you are tired of applying and removing glue, why not try a wear and go glueless wig as your next wig?
WigFever wear and go glueless wigs offer a protective method for your natural hair. Unlike traditional lace wigs that require adhesive directly applied to your hairline, wear and go glueless wigs use adjustable straps inside the cap to fix the wig in place. The straps instead of adhesive, eliminate the risk of potential damage to your hair and scalp. It can both save your money and effort. You will never have to buy wig tape or wig glue to secure it on your head.
Moreover, the wear and go glueless wig is crafted with a breathable airy cap. The breathable cap wig design included advanced materials that ensure more ventilation, preventing overheating and discomfort even during all-day wear. These wigs transcend the traditional lace front wig experience, granting wearers the freedom to express themselves confidently. Whether you seek convenient or a stylish solution. WigFever's human hair wigs are the perfect choice for every fashion girls.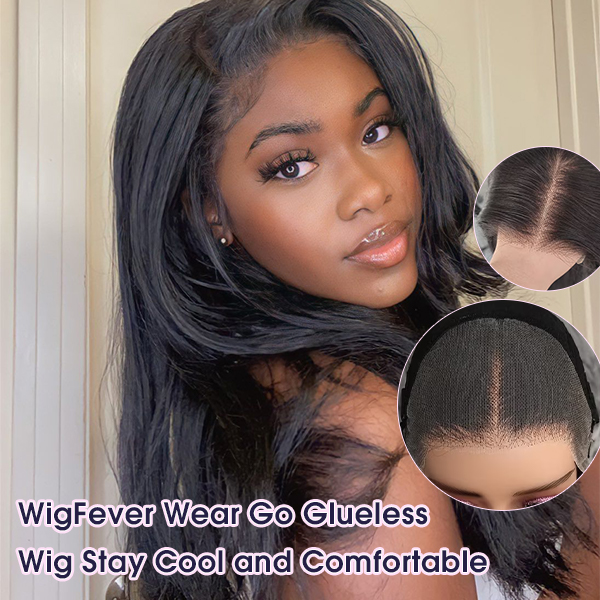 Conclusion
Removing glue from a lace wig without alcohol can be achieved using these gentle and effective methods. Remember to be patient and handle the wig with care to preserve its quality and prolong its lifespan.
Related Posts