Deep wave hairstyles are known for their elegant and sophisticated look. In 2023, these hairstyles continue to be popular, offering a timeless and glamorous appeal. Deep wave hairstyles refer to a specific type of wavy hairstyle characterized by deep, well-defined, and consistent waves or curls that resemble the shape of the letter "S." Here are some deep wave hairstyles worth trying in 2023. Continue reading unlocking your human hair wig hairstyles!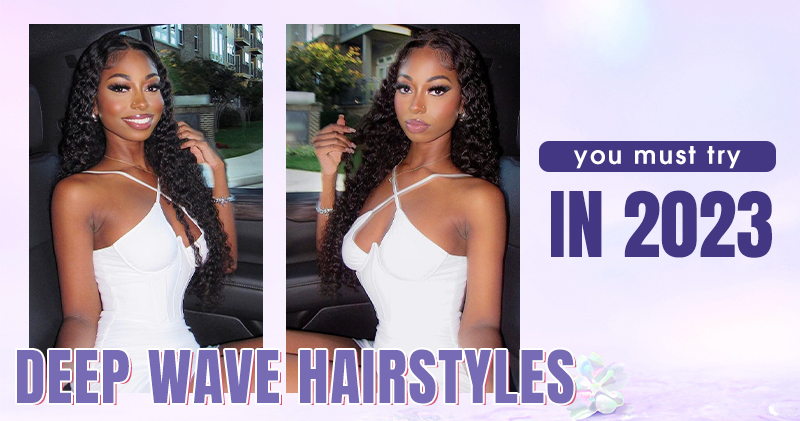 Classic Deep Wave Hairstyles
This is the most timeless deep wave hairstyle. Achieved using a deep waver or a curling iron, it creates uniform, S-shaped waves that add volume and texture. Shop Wigfever now, we have ready-made deep wavy wigs for your next hairstyle.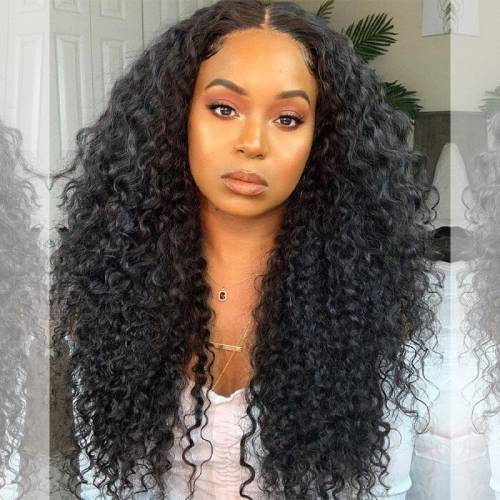 Side-Swept Deep Wave Hairstyles
Tired of the typical middle part? Try sweeping all your deep wave lace front to one side. With this hairdo, you can showcase the results of your twist out while also gathering it all on one side for more volume.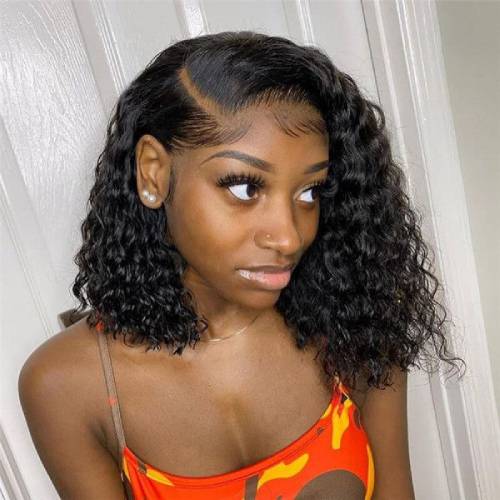 Side Part With Jewelry
Opt for a side part with jewelry hairdo if you want jewelry but only on one side. The side part styles add uniqueness and the jewelry enhances the overall look. Use a comb or your fingers to create a deep side part on the side you prefer of your lace frontal wig. Then you can arrange your favorite hair jewelry in a row, cluster them, or scatter them for a more eclectic look.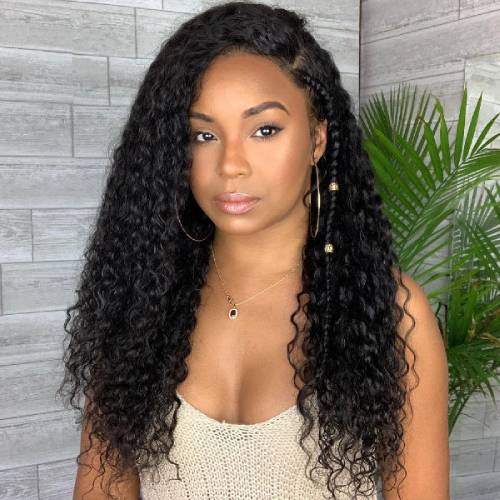 Half-Up Half-Down Deep Waves
Deep wavy half up/half down hairstyles find the ideal harmony between elegance and practicality. It enables you to display both your attractive facial features and your lovely long hair.
To achieve this hairdo, all you need to do is divide your hair or lace front wig in two. Tie the top half of your hair into a ponytail and leave the bottom half of your hair down.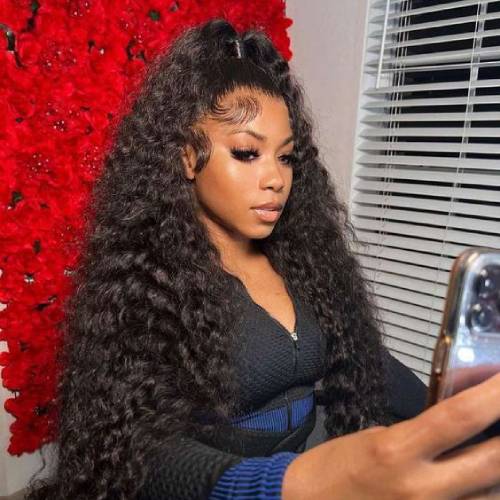 Deep Waves High Bun
The previous Half-Up Half-Down hairstyle is stylishly updated with the deep wave high bun, where the top part is wrapped into a bun on top of the half up half down look. The defining feature of this style is the creation of a high bun, which can be placed at the crown of the head or at the back. The bun adds sophistication and an element of sleekness to the overall look.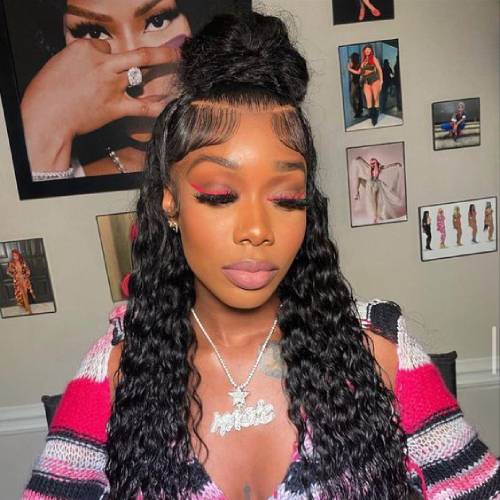 Low Ponytail Deep Waves
Don't want to spend too much time on your hairstyles? A low ponytail can help you achieve that effortlessly. This timeless and classic Low Ponytail Deep Waves hairstyle offers a blend of sophistication and ease. Simply collect all your hair at the nape of your neck, holding it loosely with one hand. Then secure the low ponytail with a hair tie.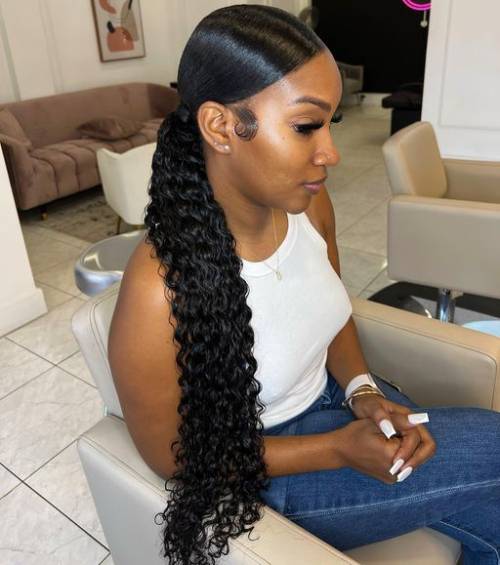 Deep Wave Bob
Look for a hairstyle that is easy to style and maintain? Bob deep wavy hairstyles can never fail to delight. This kind of haircuts, as opposed to lengthy wig, decrease tangles and make your hair more manageable.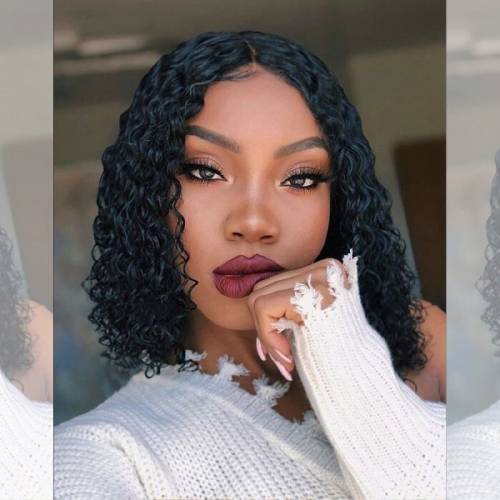 Front Braided Deep Waves
Front braided deep waves is a captivating and creative hairstyle that combines the elegance of deep wave curls with intricate braids framing the face. This style is perfect for those seeking a unique and eye-catching look.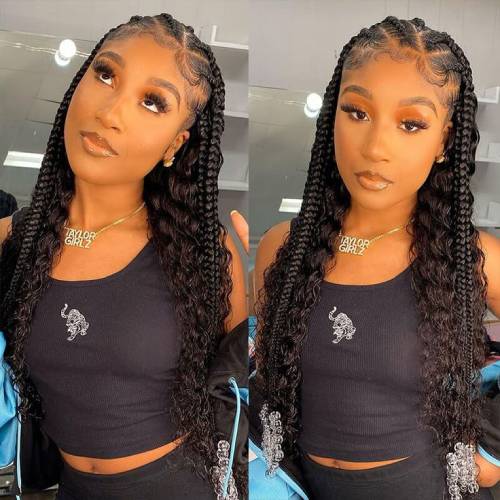 Loose Deep Wave Hairstyles
Loose Deep Wave Hairstyles offer a natural and effortless look with waves that are less structured and more relaxed compared to traditional deep waves. These loose waves create a beachy and laid-back vibe, making them perfect for various occasions, from casual outings to special events.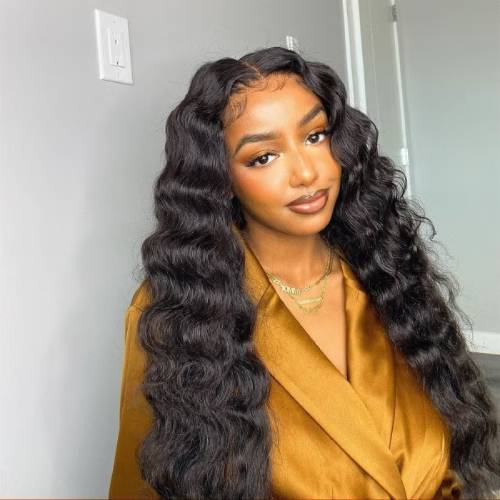 Accessories With Deep Waves
Accessories can add a touch of personality and flair to your look. Choose hair accessories that complements your outfit and personal style, the right accessories can make a significant difference.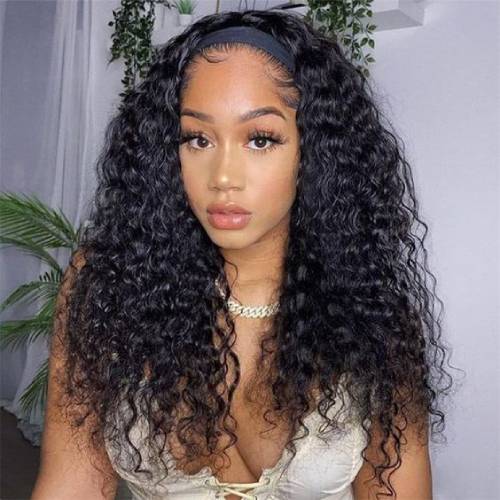 Double Space Bun Deep Waves
With the fun and playful look of space buns, you will undoubtedly be the focus of attention. The defining feature of this style is the incorporation of two space buns, positioned at the top of the head, creating a playful and youthful appearance. what a wonderful hairstyle for deep wave wigs it is!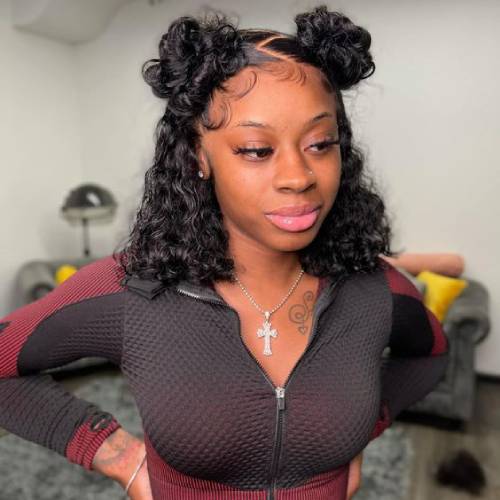 Messy Deep Wave Hairstyles
For a more relaxed and casual look, you can create messy deep waves by tousling your hair slightly after styling. This style is perfect for everyday wear and can add a touch of effortless charm to your appearance.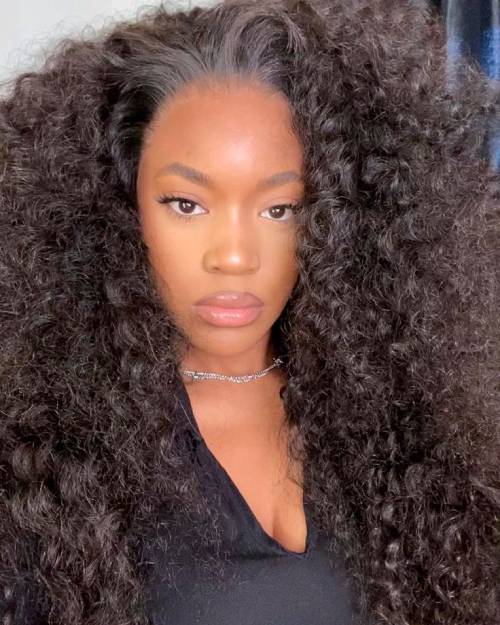 Colored Deep Waves Hairstyles
Adding highlights or a new color to your deep wave hairstyle can take it to the next level. Experiment with different shades to create a unique and eye-catching look that complements your skin tone and personal style.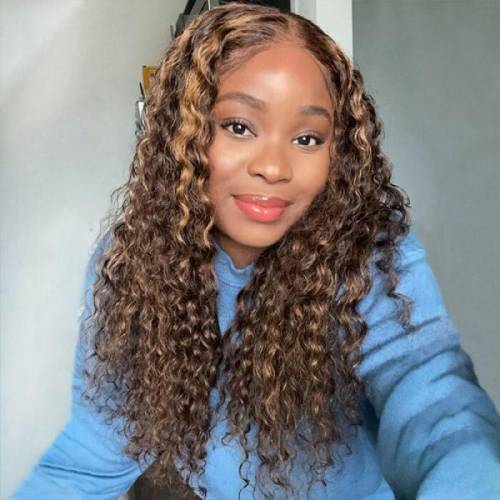 Wet Deep Waves
Wet deep waves are a trendy and alluring hairstyle that mimics the appearance of damp or wet hair. The defining feature of this style is the glossy and wet look, which makes the waves appear sleek and lustrous.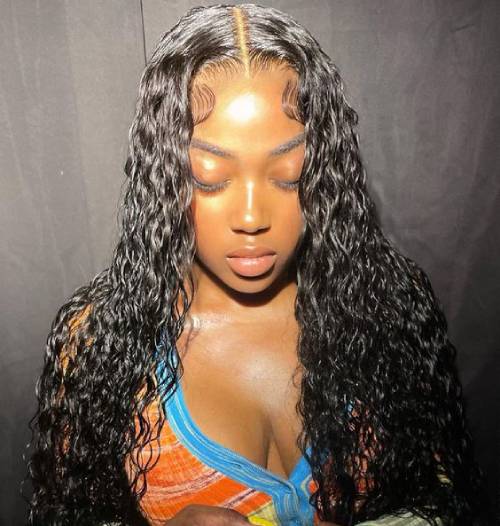 Deep Waves With Bangs
Space Buns is also a great hairstyle for deep wave wigs. Give your hair that "brand new" appeal by adding youthful and trendy bangs to your hair. It combines the classic charm of deep waves with the contemporary appeal of bangs.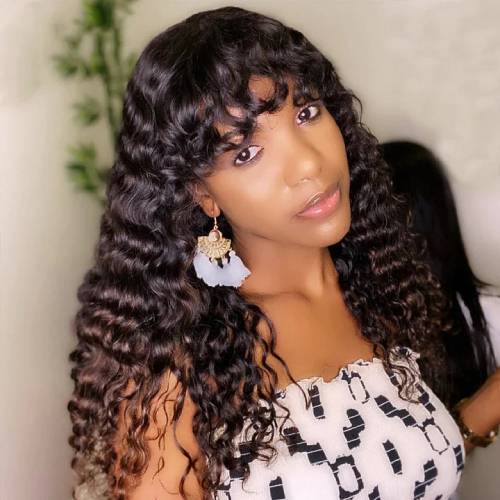 conclusion
In 2023, deep wave hairstyles offer a world of possibilities, allowing you to switch between timeless charm of classic deep waves and the edginess of colored deep waves with one wig. Embrace the above versatility deep wave hairstyles this year and get ready to turn heads and leave a lasting impression with one of these must-try deep wave hairstyles in 2023.
You might want to check these posts:
Wig Length Chart-How To Choose Your Wig Length
How To Color Human Hair Wig